what is happening AT STONYBROOK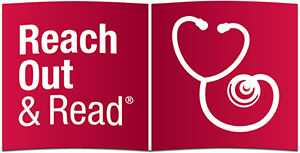 Reach Out and Read Now Offered to all children under the age of 5 During Well-Child Visits at Stony Brook Pediatrics!
Reach Out and Read integrates reading aloud into pediatric care, providing books and coaching that help every family make reading a part of their daily routine. Clinicians at Stony Brook Pediatrics have decided to introduce this important evidence-based model into regular pediatric checkups, by advising parents about the importance of reading aloud and giving developmentally appropriate books to children during well-child visits.
The Reach Out and Read program begins at the 2-month well-child visit and continues through age 5, with a special emphasis on children growing up in low-income communities. Families served by Reach Out and Read will read together more often, and their children enter school with larger vocabularies and stronger language skills, better prepared to achieve their potential. We are very excited to share this program with our patients and their families!
---
We have a new Pediatric Nurse Practitioner, Julie Gottfried. She joined Stony Brook in July and has been a welcome addition to our dedicated and skilled clinical staff. Julie will work in our Geneseo and Dansville offices 3 days per week. She over 23 years experience in a variety of clinical roles working in Pediatrics. Please see her bio on our provider page.
---
ATTENTION
EFFECTIVE 8/14/23 WE WILL NO LONGER BE OFFERING THE RAPID COVID TESTING IN OUR OFFICE. THIS IS DUE TO INSURANCES NO LONGER COVERING THE TESTING. WE CAN STILL DO A TEST THAT IS SENT TO THE LAB FOR PROCESSING. THESE TESTS CAN TAKE UP TO 48 HOURS TO BE RESULTED. IF YOU HAVE ANY QUESTIONS PLEASE SPEAK WITH A PROVIDER.
THANK YOU

---

WELCOME

Welcome to Stony Brook Pediatrics! For over 30 years we have focused on providing the best care for children of all ages. At Stony Brook, we believe in the concept of the medical home, and our practice has been certified through the National Committee for Quality Assurance since 2014. Although the medical home concept includes a physical location, it serves much more. We strive to be accessible, comprehensive, family-centered, compassionate, and culturally inclusive. Our vision is to bring great quality health care to all children despite barriers.
Our Practice is comprised of two Board Certified Pediatricians, one Board Certified Family Physician, six Pediatric Nurse Practitioners, and one Physician Assistant. We have two locations, one in Dansville, NY and the second in Geneseo, NY. We specialize in childcare from birth through the end of college. We use an electronic medical record to ensure access and continuity for our patients to receive the same excellent care at either location, as well as access to patient portals. Our support staff includes front office staff, nursing, billing/coding specialists, and practice administrator. Stony Brook Pediatrics is a member of Accountable Health Partners, an Accountable Care Organization. Through this membership, we can offer Lactation Consulting and Behavioral Health Specialists to our patients and families.
We consider our staff and our patients as family, and this is evident as soon as you walk through our doors. We are proud of our long history of exceptional service to the families of Livingston county and surrounding areas. Our website is designed as a tool to help inform and educate parents on important child healthcare topics. Please feel free to explore our parent resource section.
We look forward to meeting you and your family!